Episodes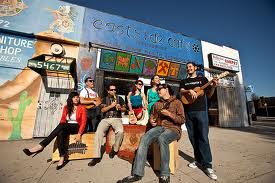 Tuesday Nov 19, 2013
Tuesday Nov 19, 2013
"Use your story to inspire change and deliver it in a way that makes it accessible to the masses."
"Quit your job and get to work. Find a way to sustain yourself pursuing your passions."
"Be patient. It takes time to create harmony."
Members of Las Cafeteras
I crossed paths with this amazing band at the National Conference on Race & Ethnicity. They creatively weave their own narratives and the social justice stories of their communities into the lyrics and pair the music with Son Jarocho, a regional folk music style from Veracruz, Mexico, and inspire crowds to dance, and hopefully contemplate the deep messages about topics ranging from immigrant rights and police brutality to living a life of purpose. Watching my daughter who was a year old at the time and my mother who was in her seventies boogie and clap along to their music, along with students and professionals from all walks of life, of all ages, reminded me of the power music has on humanity.
Monday Nov 18, 2013
Monday Nov 18, 2013

Black, white, brown, yellow, young and old—every hue and age of people imaginable—crammed into the store that evening, filling all the chairs, standing alongside bookshelves and settling into the floor space to spend some time with 70 year old Yarrow, from renowned group Peter, Paul &Mary. Children danced, middle-aged adults took a trip down memory lane, singing to the familiar tunes of their childhood and clapping along. Peter, in his khakis, sneakers and brown t-shirt charmed the audience, continually inviting folks to join him on stage to sing along. Everyone awaited "Puff the Magic Dragon," but Yarrow threw in a number of surprises and won over the hearts and minds of everyone with his song "Don't Laugh at Me" from Operation Respect (an organization he has been working with for a decade).

"We are together, no one feels threatened; we are experiencing peace," Peter prefaced.

In "Don't Laugh at Me," Peter's lyrics addressed virtually every type of person—fat, thin, Israeli, Palestinian, trendy, unfashionable, poor, rich, white, black, brown and more—eyes throughout the room moistened, children silently listened and rocked back and forth.

And, then the magical moment that everyone had been waiting for–"Puff the Magic Dragon." Yarrow co-wrote the tune in 1959 with Lenny Lipton, while preparing to graduate from Cornell and dealing with the reality that he would have to move on to the next phase of life. And, "no" Yarrow says, the song is not cryptic code for drug use, but rather about the process of growing up.

"It's about the sadness of growing up and about a child that has an imaginary relationship with a dragon. It's about taking our place to make the world a more humane and peaceful place," Yarrow explained after his Roseville Barnes & Noble appearance.

Yarrow credits his daughter Bethany Yarrow (known for her group Bethany and Rufus) for giving him a new lens on folk music and inspiring him to pursue the book project with Sterling Publishing. Yarrow's daughter mixes folk with modern elements, drums and other genres of music. It was while attending Bethany's concerts and getting invited to join his daughter on stage for impromptu performances that Peter discovered something new.

"The songs they were singing were traditional, but had a fresh energy and perspective," Peter said. "It made me realize that I could take the songs that were important to me and give them a freshness and a vitality. Had it not been for my daughter's exploration on the new perspective on folk music, I don't think I would have considered (doing the project). It would have just been Peter, Paul and Mary without Paul and Mary; now it is something special." And as a symbol of Peter's journey as a musician and as a father, readers of the Sterling published book will find a special treat on the last page, with an image of "Jackie Paper" as a grown up and a little girl that has appeared to befriend the dragon. "It is symbolic of my daughter carrying on the music that I love,"

Peter sang along with a stage full of children, integrating the cough that he picked up while traveling into the tune and even stopping midway to make a "non-political" announcement about the opportunity that awaits America in November. About 200 folks lined up to give Yarrow hugs, share stories of inspiration and take photos. The tornado watch turned into a warning, forcing the crowd to move to the basement with Peter. Even with the inconvenience imposed by mother-nature, a sense of calmness and joy resonated in the basement.

Barnes & Noble Community Relations Manager Janet Waller couldn't have been more pleased with the event.

"(The night was) fabulous. I (loved) seeing people from my generation rocking out to Peter's music," Waller said in between Peter's signings "I especially loved the incredibly important message of kindness in, 'Don't Laugh at Me.'"

Theresa Wolf-Lee grew up listening to "Puff the Magic Dragon" and loved it. Wolf-Lee and her husband Greg Lee thought it was important to introduce their 12 year old adopted Korean daughter Quinn to Peter's message of unity.

"I really love his message that everyone is equal; that it doesn't matter who you are or what you are, that you should be who you are and accept who is different than you," Wolf-Lee explained after getting her book signed by Peter. "He is into peace and social justice rights for everyone, and I think it is important for Quinn (our adopted daughter) to see people like him." Like Peter's message that everyone is fine just as they are, regardless of differences, Wolf-Lee and her husband make every effort to keep their daughter and the family in touch with her Korean roots. Quinn takes Korean dance and drumming class and last year, traveled to her homeland along with her family. Not surprisingly, Peter's message resonated with her.

"I hadn't really seen him (Peter) before," Quinn said with a shy smile and a shrug. "(I like Peter's message to) just be yourself and remember that everyone is unique in their own way."
Sunday Nov 17, 2013
Sunday Nov 17, 2013
Worry less about hitting a wrong note and more about making music together.
I grew up loving the folk tunes of Peter, Paul and Mary. I remember day dreaming and imagining singing their songs with my own children. In 2008, when I had accepted that I wouldn't meet my blueprint plan of having a husband and a child before the age of thirty, I wrote a book of universally applicable lessons that I had learned from interviewing people of all backgrounds from around the world. By chance, I ended up having a signing in the same bookstore as Peter Yarrow in Roseville, Minnesota. Though childless at the time, his music brought me back to my childhood and the sight of grown adults singing alongside young children brought tears to my eyes. I had dinner with Peter that evening and met up with him at subsequent concerts and events several times. In 2013, when I was in New Orleans attending the National Conference on Race and Ethnicity, I finally had a chance to introduce my then 18-month old daughter to the Paul of Peter, Paul and Mary. Paul presented a program called Music to Life, in which he showed the capacity that music, combined with love, has to change our world.