Episodes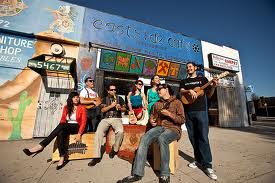 Tuesday Nov 19, 2013
Tuesday Nov 19, 2013
"Use your story to inspire change and deliver it in a way that makes it accessible to the masses."
"Quit your job and get to work. Find a way to sustain yourself pursuing your passions."
"Be patient. It takes time to create harmony."
Members of Las Cafeteras
I crossed paths with this amazing band at the National Conference on Race & Ethnicity. They creatively weave their own narratives and the social justice stories of their communities into the lyrics and pair the music with Son Jarocho, a regional folk music style from Veracruz, Mexico, and inspire crowds to dance, and hopefully contemplate the deep messages about topics ranging from immigrant rights and police brutality to living a life of purpose. Watching my daughter who was a year old at the time and my mother who was in her seventies boogie and clap along to their music, along with students and professionals from all walks of life, of all ages, reminded me of the power music has on humanity.